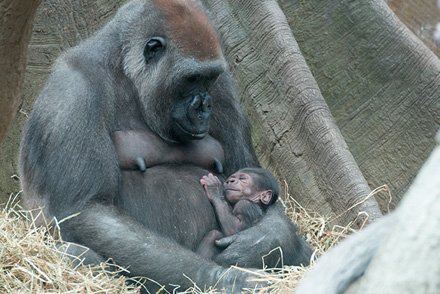 Two western lowland gorilla babies have been welcomed into the world at the Bronx Zoo.
The pair are the first lowland gorilla babies born at the zoo since 2006.
The babies are number 14 and 15 at the zoos Congo gorilla forest. They are part of a troop of 20 living at the zoo which includes their mums Tuti and Julia. This is the largest group of gorillas residing in America.
They are part of the Species Survival Plan run by the Association of Zoos and Aquariums. This program aims to genetically diverse group of gorillas in American zoos.
Being a critically endangered species the survival plan is important for the future of the gorilla.
The zoo is yet to discover what the gender of these babies is.
Temperature, weather and other factors will all be dependent on when the babies will be on display.
The two lowland gorilla babies were born after a gestation of 8.5 months. The average gorilla infant weighs 4 to 5 pounds (2kg) at birth.
The babies were born a month apart. Julia gave birth to her baby on March 10 with Tuti having her baby on April 17. The dad of both of the babies is known as Ernie who is a first time father.
Their home the Congo gorilla forest has won many awards. Here zoo-goers experience a rainforest like space home to okapis, mandrills, birds and of course gorillas. The exhibit has a separate admission fee which goes directly to programs run in-situ by the Wildlife conservation society, the group who run the zoo.
Over time the exhibit has contributed over $12.5 million has been sent overseas to help out programs in the field.
The lowland gorilla babies are on exhibit at Congo gorilla forest ready to meet visitors now.
Photo Credit: Bronx Zoo